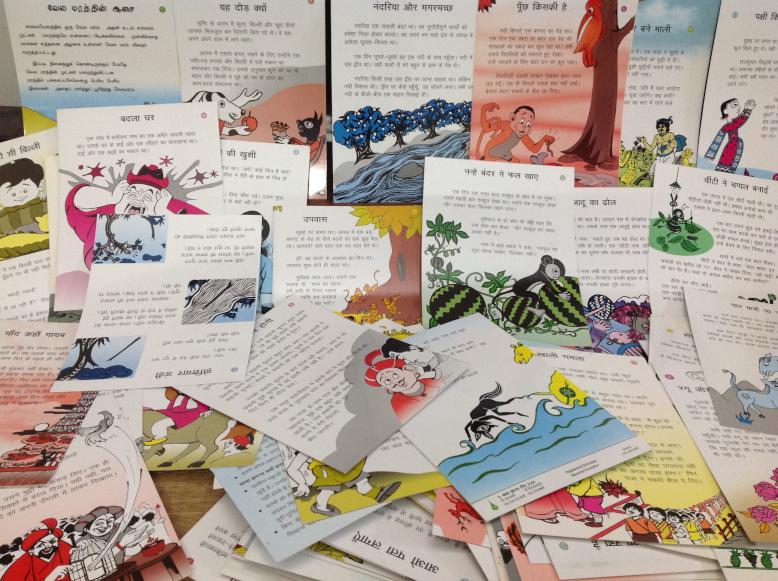 The story cards set is a collection of 100 stories printed on laminated cards. Titled 'Kathai Aruvi' (Waterfall of Stories), the project was originally started in 2003 in Tamil Nadu to promote reading habits among children studying in Tamil-medium schools.
Why stories?
A large number of children in rural schools are first generation learners. Text books are the only reading material available to them.
In order for children to become good readers they should have access to a wide range of reading materials. Stories widen their horizons and deepen their understanding.
Activities that are rich in context engage the attention of children effortlessly.
Stories handled sensitively provide the most fertile ground for the children's imagination and expression.
India is one of the richest sources in the world for storytelling and the country has an amazing variety of tales and techniques. These have to be brought within the reach of children.
Format of the story cards
'Kathai Aruvi' was brought out in laminated A3-size cards, folded into 4-page stories. This format is ideal for shared reading in a classroom. The large number of cards ensures that several groups of children in a classroom may use them simultaneously. The cards are easy to handle and can withstand frequent use
The story cards team
The story cards were originally brought out by a team of four educationists, Ms. P. Saraswati, Ms. V. Vijayakanthi, Dr. L.S. Saraswathi and Ms. S. Rajalakshmi. The motivation for the team was the dearth of attractive and inexpensive story books for children with appropriate language levels. The Tamil cards were published in 2003 by Chatnath Trust, Chennai.
The process of preparation of these cards included collection, review and analysis of a large number of folk tales and traditional stories from various sources. Out of these a few were chosen, rewritten and adapted, keeping in mind a child's world and the four-page format. Some new stories were also written, based on the topics and exercises in the school textbooks. A few authors contributed their stories to the collection.
Importance was given to illustrations that provide the right setting for each story and kindle the child's imagination. The original collection also included riddles commonly told in the state. The riddles were categorized theme-wise and grouped into 8 cards. Finally, an introductory card was added which lists suggested activities for teachers. Overall, the project took more than a year and a half to complete, including research, writing, field testing and rewriting.
The stories
The set includes not only folk stories but also historical, humorous, mythological, science-based and contemporary stories that bring out the richness and variety of our tradition. A few stories from other countries too were chosen. A conscious effort was made to include stories that touch upon several qualities - compassion, friendship, sacrifice, truthfulness, the spirit of enquiry, imagination, intelligence, a feeling for beauty and the sense of wonder - qualities that are inherent in small children and that need to be cultivated and sustained during the school-going years.
Age Levels
Field studies in rural areas indicate that children from classes four onwards are able to read the story cards comfortably. In classes 2 and 3 many children needed help. Some stories were found suitable for classes 6-8. The collection has been used effectively in storytelling sessions both at the primary and pre-primary levels by teachers and parents.
Translations into other languages
'Kathai Aruvi' caught the attention of other educationists from different parts of India and requests to translate them into Hindi and other languages were received. The Hindi version was published in 2008 and the Kannada, Gujarati and Oriya story cards were published subsequently.
Hindi story cards - Acknowledgements
We fondly remember Anuradha Bajaj who spent considerable time refining the Hindi translations. Our heartfelt thanks to the following team of educationists and writers without whose support and valuable inputs the Hindi publication Katha Jharna would not have become a reality:
Anuradha Bajaj, Poonam Arora, Indira Pancholi, Jasmita Hemant, Mehboob Nisha (Delhi)
Geetha Sharma (Ahmedabad)
C. Manikandan , J. Padmapriya, Kanupriya Keyal (Chennai)
Sushmita Banerjee, Lohit Joshi, Hitendra Upadhyaya (Jaipur)
Typing – Sushil Kumar
Rajalakshmi Srinivasan Memorial Foundation (RSMF)
E-Mail: rsmf1944@gmail.com
RSMF is currently making available the story cards on a nonprofit basis for educational purposes.